Studio 84 Fine Art School
Congratulations Colette! Last year Colette won Best in Show in the fine art youth division at the Oregon State Fair with her "La Vallie d' Italia" painting and this year she won an equivalent award, "Outstanding" in addition to her blue ribbon at the Clackamas County Fair! This 10 year old is amazing. She is interested in doing a good job, deliberates over her painting decisions and then takes action on what she thinks will work best to create lovely paintings that add tremendously to her family's collection. Be sure and look for her "Purple Mountains Majesty" painting in the collection of recent works here on the website. She was influenced by John Gamble and Maurice Braun, California Impressionist painters for that lovely painting. I can't wait to see what you paint this fall Colette!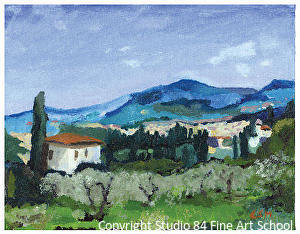 2013 Oregon State Fair Best in Show fine art youth division winning painting
"La Vallie d'Italia" by Colette M.

"Run, don't walk to register your artistic child for any of Studio 84 Fine Art School's oil painting summer camps or classes. Kirsten, an accomplished painter in her own right, has a gift for teaching her students the joy and craft of oil painting in a way that makes her students feel like they are true artists. My daughter loves painting with Kirsten in her studio every week and we love the amazing paintings that come home at the end of each term." S.L.

Kirsten thinks there's nothing better than an oil painting created by a child. The Studio 84 Art School teaches oil painting by exploring all aspects of the subject used by the "Masters". Each and every one of the students, as well as their parents, receive a first hand glimpse into the art world like never before. . . . .through the eyes and paintings of their children. The children's works sometimes become the "best part" of their family's art collection. Come join us and see for yourself what any child can create with a lot of encouragement, time and some wonderful oil paint! We have a lot of fun in the studio!!
Best regards,
Kirsten