Studio 84 Fine Art School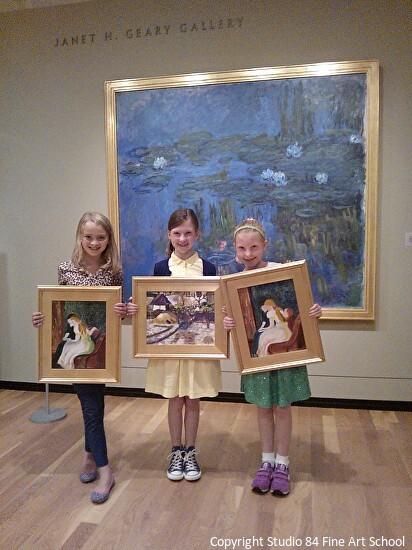 It all starts with a trip to the Portland Art Museum's Janet Geary Gallery and if the student is so inclined, culminates with entering original works in the Scholastic Art and Writing Awards competition! Studio 84 had five students enter oil paintings in this years regional competition, which included over 4,000 entries including ceramics, photography, sculpture, drawing and illustration among others. Each category has been judged by local art professionals and we are so proud to have some winners here at the studio!
Congratulations to my 2015 winners Laura Ayre, Wooyeon Kim, Phoebe Walsh and Claire Brown!! Their paintings shown below include gold, silver and honorable mention Art Keys. The gold art key winners paintings are automatically submitted to the national level for consideration and will be shown at the Pacific Northwest College of Art in Portland at 511 NW Broadway. The show is open to the public February 5 -20, 2015 and Thursday February 5, 2015 from 5-7:00 pm a reception will be held for the artists.
Below is a look at the winning paintings and some comments from some of my terrific Studio 84 students.
Orange Glow
by Wooyeon Kim
Gold Art Key
Belize Breeze
by Laura Ayre
Gold Art Key
The Beach
by Phoebe Walsh
Gold Art Key
Stillness
by Wooyeon Kim
Silver Art Key
Envious
by Laura Ayre
Silver Art Key
Autumn Intertwined
by Laura Ayre
Silver Art Key
Single Scull
by Claire Brown
Silver Art Key
Madelangelo
by Claire Brown
Honorable Mention
Pathway
by Wooyeon Kim
Honorable Mention
I would love to share with you what some Studio 84 painters have to say......
"I wouldn't trade my experience at Studio 84 for the world! During the past five years I have grown so much as an artist and developed a sense of artistic independence while being under great instruction. It's such a privilege to be part of the studio and I would highly recommend it!" L.A.
"The smell of oil paints, the sounds of laughter, and the visions of color splashed everywhere…there is something magical about this scene. Walking into Studio 84, I feel happy. Kirsten is so kind and an amazing artist and teacher that helps you find the painting abilities that you might not even know you had." P.G.
"I love art. Art is a fun way to express yourself. When ever I paint at studio 84, I get to paint my own photos, and paint other paintings. You get to learn all of these techniques for when you paint. One of them is called make it, break it, make it again. What it means is, when you make something, you can erase it (break it) and then make it again, but in a better form or color. Painting is a lot of fun, and you get to learn things. It is a great experience, and I think you would love it." E.J.
"Raw umber, yellow ochre, red-orange cad-light, burnt sienna, vibrant petunia pink , Portland grey, and inky black- Kirsten has opened my eyes to a whole new world of rainbows, techniques, and a love for painting. She inspires me and has taught me that this love of painting is necessary to create my own masterpieces." L.G.
"If you are looking for a great art teacher, don't hesitate to sign up for Studio 84! I have been painting with her for almost two years, and I look forward to every session with Kirsten. I've taken many former art classes, but Studio 84 allows it's students to find their own painting style, unlike other art classes, which don't give you much freedom on your projects. Without a doubt, my best pieces of art have been made in the walls of the studio. I recommend taking classes with Kirsten. It's totally worth it!" L.O.
"I like painting with Kirsten because she is helpful to me and everyone else. Once I started painting with her, I knew that I was never going to stop doing what I love. She lets us do paint what we feel is best and doesn't change it to make it better."
E.M.

"Kirsten's house has a really intimate feel, it's fun and personal. She's a great teacher and painter and all the results end up great." A.L.
"I like to paint with Kirsten. She helps me to see like a painter, and she is always offering new challenges and techniques. I get to try new things, and the paintings turn out great." C.M.
Be sure and look at the gallery of the student works! They have lots to be proud of for their efforts and the paintings are certainly being enjoyed in their homes by friends and family! Congratulations everyone! This is just the most fun ever working with all of you!!!
Best always,
Kirsten :)